Everything You Need to Know About Shoulder Replacement Surgery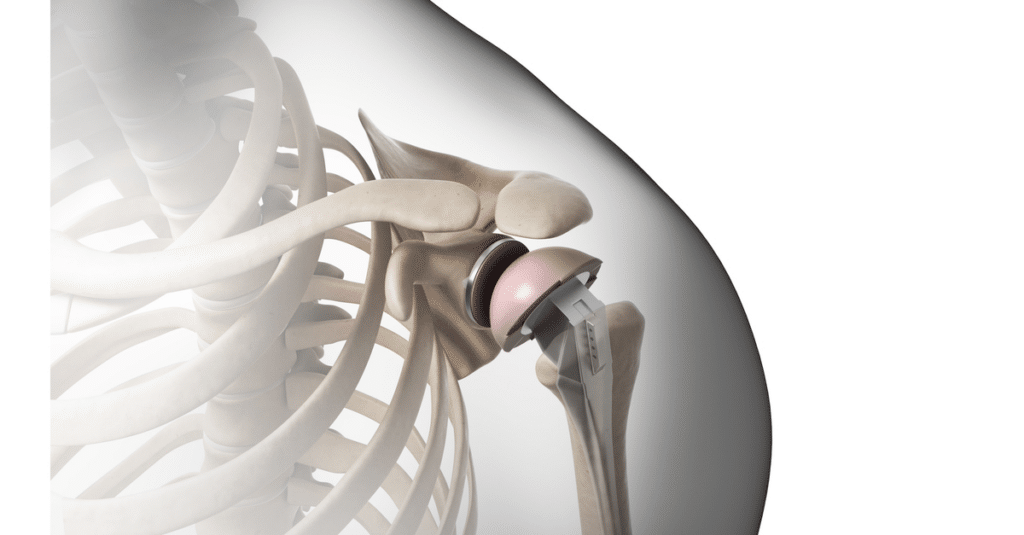 You might not know it, but knees and hips aren't the only joints that suffer from arthritis and may need to be replaced. . .
Total shoulder replacement (TSR) is a commonly performed procedure that increases range of motion and provides pain relief for patients who suffer with severe shoulder arthritis. The procedure is performed around 50,000 times a year and, like knee and hip replacements, drastically improves patients' quality of life. Here's everything you need to know:
Related Shoulder Anatomy
The shoulder is a ball and socket joint composed of the head of the humerus and the glenoid of the scapula. A healthy joint is one in which the two bones work in harmony to promote smooth, pain-free movement.
Illustration 1– The shoulder joint
How Arthritis Affects the Shoulder Joint
When arthritis affects the joint, the head of the humerus rubs, bone-on-bone, against the glenoid and/or acromion of the scapula. This causes pain and severely decreases mobility. Once severe arthritis develops, it's very hard for patients to perform day-to-day functions that require any upper body movement, such as lifting objects or raising their arm above their head.
Total Shoulder Replacement (TSR)
Similar to a hip or knee replacement, a total shoulder replacement is a procedure that replaces the arthritic head of the humerus and glenoid with metal and plastic implants that restore the joint. The procedure usually takes a little more than an hour.
Illustration 2– A total shoulder replacement restores the joint
TSR Results
Following surgery and physical therapy, patients can expect an increase in shoulder mobility and a significant decrease in pain. They can also expect to be able to perform most day-to-day activities that require the use of the shoulder.
Contacting an Orthopedic Specialist
Shoulder pain can be debilitating. But you shouldn't have to suffer. To find out if total shoulder replacement surgery is a treatment option that can help you, please contact our office to schedule an appointment with one of our orthopedic specialists at one of our nine New Jersey Jersey locations.
For patients suffering shoulder pain due to injury, arthritis or degenerative condition, the comprehensive Upper Extremity Team at Orthopaedic Institute Brielle Orthopaedics utilizes the experience and expertise of Board Certified Orthopedic Surgeons and Sports Medicine Specialists to diagnose and treat conditions of the shoulder, elbow and hand. Contact us today to schedule a consultation with one of our awarded specialists!